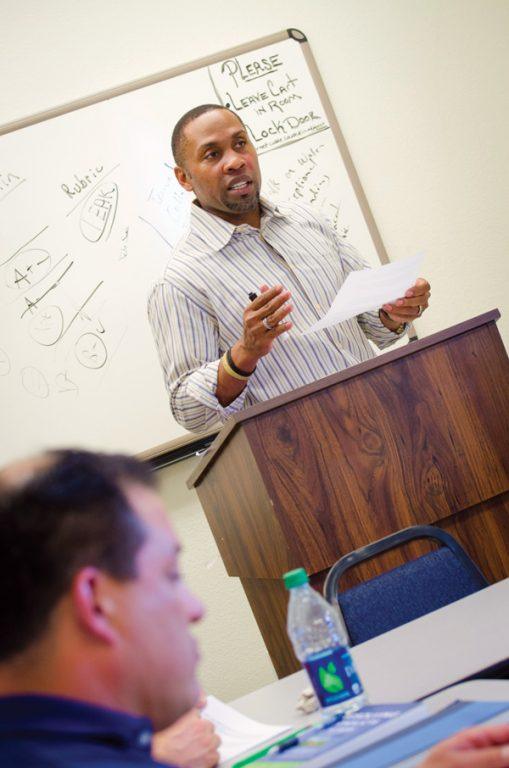 The College of Business and Public Management offers certificate programs in several academic disciplines. Certificates are offered at the central campus in La Verne, online, and at select regional campuses.
In order to earn a professional certification in one of the focus areas, students must satisfactorily complete (with a grade of B or better) five or six graduate business courses for a total of 15 to 18 units. Courses for a business certification may be selected from the listing of Professional Focus Area/ Concentrations. Any substitution of classes would require approval. Foundation or prerequisite courses may be required for Certification Programs.
Professional certification students or graduates of the program who are interested in continuing their studies toward an MBA degree at the University of La Verne will be allowed to transfer credits from their certificate programs.
Health Service Management
The University of La Verne offers graduate-level certificates in health administration addressing the needs of healthcare professionals. The Certificate Program is a flexible option that enables students to gain specific knowledge and expertise to enhance their job performance and careers. Courses completed in the Certificate Program are transferable to the Master of Health Administration Program.
| | |
| --- | --- |
| Certificate in Health Services Management | The certificate in health services management offers courses such as Managing and Leading in Health Services Organizations, Recent Trends and Issues in Health Services, Financial and Cost Analysis, Strategic Planning and Management in HSOs, and Economics of Managed Care. |
| Certificate in Health Services Marketing and Business Development | The certificate in health services marketing and business development offers courses such as Current Trends and Issues in Health Services, Strategic Planning and Management in HSOs, and Marketing and Business Development. |
| Certificate in Health Services Financial Management | The certificate in health services financial management offers courses such as Strategic Planning and Management in HSOs, Budgeting and Cost Control, Mergers and Acquisitions, Management of Clinical and Financial Information, and Managing Managed Care. |
Business, Management, and Leadership
| | |
| --- | --- |
| Certificate in Human Resource Management | All courses in the Certificate in Human Resource Management can apply to the MS program, if desired. The admission requirements for the certificate are identical to those for the MS program. |
| Certificates in Master of Business Administration | The Master of Business Administration (MBA) has eight different concentrations, each of which can be taken as a certificate if so desired. |
| Certificate in Nonprofit Management | This program emphasizes the human dimensions associated with leading and managing nonprofit organizations. All courses in this program can apply to the MSLM program, if desired. The admissions requirements for the certificate are identical to those for the MSLM program. |
| Certificate in Organizational Leadership | All courses in the Certificate in Organizational Leadership can apply to the MS program, if desired. The admission requirements for the certificate are identical to those for the MS program. |