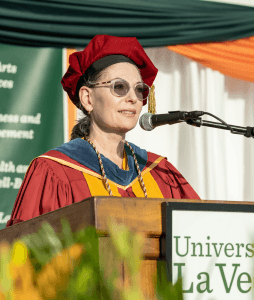 Welcome to the College of Business. We proudly offer 13 distinctive and transformative undergraduate and graduate degree programs that prepare students of all backgrounds and ages with knowledge and skills to help them excel in a rapidly changing, global business environment.
At the College of Business, we provide:
High-quality education with small classes that foster collaboration and mentorship.
Hands-on opportunities to apply what is taught in the classroom to real-world situations.
Relevant degrees that address business needs and career opportunities in our region and globally.
A focus on teaching the most in-demand skills employers seek and leaders need, including critical thinking, ethical decision-making, complex problem-solving, data analysis, collaboration, communication, entrepreneurial thinking, and other top skills.
Our students and alumni appreciate that:
Our graduates get hired by top employers who know and trust the value of our education.
Our faculty go beyond to serve as mentors and be accessible to our students.
Our dedicated advisors get to know our students and work with them from enrollment through graduation, successfully navigating course planning, career exploration, and academic challenge.
We provide career preparedness services to help our students and graduates find internships and employment with strong resumes and adept interviewing skills.
Our extra-curricular activities and clubs build their leadership skills and confidence.
Multiple teaching modalities (synchronous and asynchronous online, on campus, hybrid) and campus locations provide maximum flexibility to those working full- or part-time.
Our faculty teach an integrated approach to business. That's why all students earning their Business Administration degree use their newfound skills in finance, marketing, and management to create a for-profit company, define a target market and product, develop a business plan, seek a loan from a bank, and donate the proceeds to charity. They do this while taking these courses as a block, applying what they are learning in the classroom to a real business.
Organizations seek leaders who can identify opportunities, solve problems, think creatively, communicate effectively, work well with others, operate ethically, and embrace diverse opinions and backgrounds. With our personalized instruction, targeted advising, comprehensive career services, and connection to our network of 80,000 alumni worldwide, our graduates achieve more than they ever thought possible.
I hope you will pursue your degree at the University of La Verne's College of Business. It is an investment that will yield a lifetime of rewards.
Emmeline de Pillis, PhD
Dean, College of Business