Individualized Career Counseling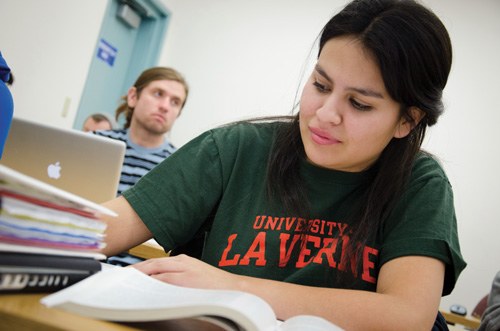 Please meet with Center staff to discuss your career plans, from the very beginning of your La Verne experience, to graduation, and beyond. We will be happy to help you with resume and cover letter writing, and guide you to create your job search strategy. We can also help you assess your talents and personality traits in relation to your academic interests and the job market, and assist you in developing a personalized career action plan to find a meaningful and successful career.
Career Assessment Tools
The best way to find a career that becomes fun rather than work is to match your career with your passions, skills, talents and personality traits. You are able to take a variety of assessment tests through the links below. We will help you interpret your results and their relationship with the jobs and careers in which you may become successful. The assessment tools included below are free of charge or low cost.
| | |
| --- | --- |
| The Strong Interest Inventory® | Well respected career planning tool by academic and business organizations, this tool offers a wide range of applications for students deciding on a major, career exploration, and career development, by identifying personal and professional interests and strengths in relation to careers and fields of study. |
| The Myers-Briggs Type Indicator® (MBTI) | Developed as a general personality assessment, the MBTI is useful in understanding your preferences in behavior in all types of settings, including how you relate to others and in school and the workplace. It helps you identify your Personality types (4-letter type formula), matching your career with your personality type and Communication style |
| StrengthsFinder 2.0-Clifton StrengthsFinder | A quick and focused approach, this assessment helps identify and develop a person's combination of skills, talents and knowledge, including dormant talents; it shows how to maximize talents and strengths to lead successful and engaging careers. Identify your top 5 strengths using this assessment tool. |
| O*NET® Interest ProfilerTM | This self-assessment is a career exploration tool helpful to discover the individual's preferences in relation to broad occupational interests. Six type of occupational interests are identified: realistic, social, investigative, artistic, enterprising and conventional. |
Resume and Cover Letter Basics
A resume is a document that displays your skills, experiences, accomplishments and education. Most employers will take 30 seconds or less to look at a resume. Therefore, your resume has to make a strong impact and communicate your value within that short time frame.
To create and format the first draft of your resume, use the following guide.
A cover letter introduces you and your resume to an employer. It highlights your most important skills and accomplishments and is an opportunity to tell the employer why you are qualified for the position. It is also an opportunity to express enthusiasm / passion for the work you can do.
To create and format the first draft of your cover letter, use the following guide.
Our Career Services Specialists are available to review and provide feedback on both.
Interviews
Attire
Your first impression when you walk into a job interview is most critical. You must dress professionally, following etiquette and protocol used by the hiring organization. Wear professional clothes that suit your style, fit the company culture and that are comfortable as well. Make sure that you look clean, your clothes are pressed, your shoes are polished, your nails are cut, and your hair is clean and brushed. For additional pointers, read these articles on interview attire for men and women.
Questions
In order to better prepare to answer any interview questions, you need to learn as much as you can about the organization/company and the position. Familiarize yourself with the vision, mission and culture of the organization, and the job requirements, while reflecting on the assets that you bring to the organization in relation to their needs. Try to consider your transferable skills and be prepared to articulate your answers in the most professional manner.
Our Career Development Specialists can assist you in preparing for an interview. Click here to schedule an appointment.
Thank You Notes
Immediately after your interview, you should write a thank you note to the hiring committee. This card or e-mail should be written in a professional manner, optimistic tone and should include content that you forgot to mention during the interview. Emphasize your interest in the organization and position. Include your contact information.
Online Job Search Sites
In an effort to make your job search experience more effective we suggest below certain job search engines and websites that either post jobs or provide career related resources and advise. We provide this information in categories that correspond to each CBPM program, undergraduate and graduate. Since the CBPM programs are integrative, some job search sites that are under a certain program might apply to other programs as well.
Additional Job Search Sites

See postings below for full-time/part-time positions, internship and volunteer opportunities. Some of these sites have career development information and other resources useful in your job search strategy. Please visit this site on a regular basis to be aware of important information regarding Jobs, Internships and Volunteer Opportunities!

Note: The U.S. Bureau of Labor Statistics (BLS) maintains current information about careers in its annual Occupational Outlook Handbook.

Professional Associations